Become a Digital Nomad with No Coding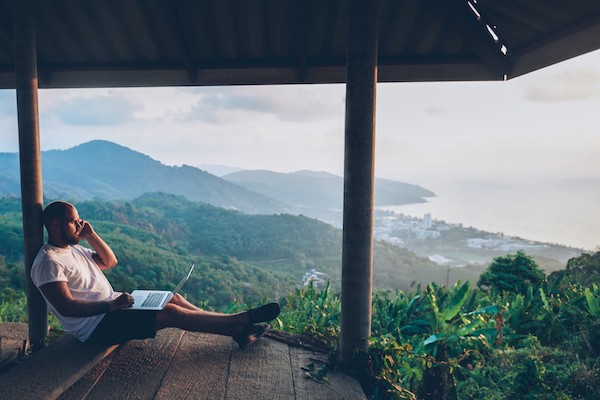 There are many updates in social media from people who can work from the exotic parts of the world. It used to be mostly software developers and digital marketers. In 2020, many businesses are moving to remote working model, so you can use your human skills and become a digital nomad as well.
Digital Nomad Lifestyle
Travelling around the world while working remotely and earning money is an exciting lifestyle for many of us. Freelancers, entrepreneurs and specialists often live in different places and work from their AirBnB home or a co-working space. Even families do home-schooling their children and try to adopt the traveller lifestyle while still working remotely.
Freedom is considered as the biggest wealth in life. Ability to live and work freely from anywhere in flexible hours is an attractive lifestyle for the many. The question is; what kind of jobs you can do as a remote worker?
Freelance Remote Expert
Before the pandemic only 2% of the workers in the US were home-based. Today 37% of the workforce in the United states are remote workers. This trend will increase and many new jobs are expected to be remote-working. Businesses are changing their go-to-market strategies, abandoning field sales and focusing on virtual selling with digital marketing. Remote working has already become the new norm and it is here to stay.
Businesses are looking for ways to reduce the recurring costs and to become more agile. Some of these remote working roles do not need to be full-time. You can become a freelance customer expert and support multiple businesses by handling their customer calls over the phone. You will get paid for the number of minutes you spent to handle the calls. You can build your positive customer feedback to increase your per minute rate. In the long run, you can get qualifications for popular skills such as on-call medical nurse or an IT consultant to further improve your rate.
How You Will Make Money
You will learn new skills and answer customer calls from multiple businesses. You will make money;
from the number of minutes you spent to handle calls.
weekly Retainer Fees from less busy skills; get qualified and stay logged in to claim retainer fee each week.
by getting high customer feedback scores and increasing your tier; from customer expert to customer advocate and then customer ambassador
rate surge for some urgent needs in certain skills
from sales commissions
You can calculate your potential earnings from here.
Work-Life Balance and Career Progression
As a freelance remote worker, you have more flexibility for managing your work and life. You can work in flexible hours, work from anywhere in the world as long as the Internet quality is acceptable.
As you collect more positive customer feedback, you will be eligible for higher paying, business critical skills. Beyond that, you can get qualified as a specialist on certain subjects and increase your earnings even further. At the same time, you can minimise the risk of losing your job as a freelancer.
You can learn more about how to become a freelance remote worker and take action to become one by clicking here.